Welcome to my website, my music and to my life.

With my music, I would like to take you on a journey right around the world. Starting off with my beautiful home country Austria and the old farmhouse where I grew up, which was built in 1092 and still standing strong.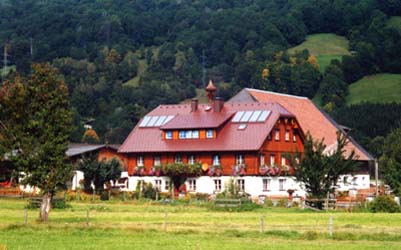 I remember many happy hours with my sisters and brothers but also very sad ones. The very first track I recorded is 'Mondnacht is' (the quiet moon night) which was my mother's favourite song. There were 13 children in our family and I am the 12th. Unfortunately, we lost both our parents when I was only very young.

My mother apparently played the zither, but I never saw her playing it. When I was about 11, I found my mother's little zither in the loft, embroidered with little Mother of Pearl, looking so lovely but with no strings. After lots of negotiating, I succeeded in having the instrument fitted with strings (this was then a lot of money), and I started lessons with the village zither teacher. This was also a financial problem but it was arranged for me to take a can of milk as payment for each lesson. Once a week for one hour, come rain, hail or snow, I trotted half an hour by foot with my zither and can of milk to the village.
For two weeks it was fun, then the blisters on my little fingers appeared and I wanted to stop. But "No, no" was the answer at home, "you wanted it, now carry on". And so I carried on. My teacher was very happy with me and she even suggested that I could go to the conservatorium in Vienna to carry on more seriously. But something this big for little Lottchen (they called me) was out of the question as there was not enough money. I stopped my lessons after two years because it was time to leave home and earn some money. The zither went with me wherever I went and was my best friend from very early in my life.

I met my Australian husband in the ski resort Wagrain and followed him to London in early 1957 where we married the same year. Apart from having three children, there was excitement with me playing in an Austrian restaurant and taking part in Hughie Green's Opportunity Knocks program which was a very popular weekly TV show. I didn't win but it was great experience and I had lots of fan letters following my appearance.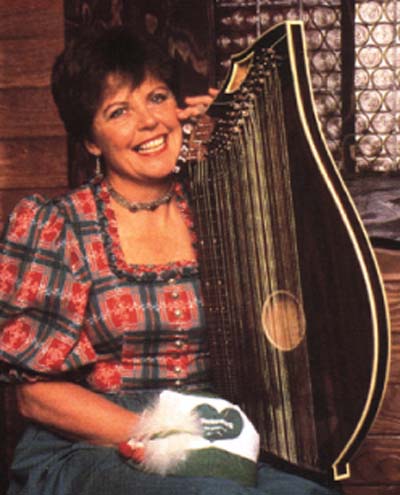 In 1966 it was time to go and settle in Sydney, Australia. Here I met with another zither player and after some time of practicing together, we decided to enter in the very popular Terry Dear's New Faces TV show. We called ourselves 'Lotte and Johanna' - the Austrian zither girls. We did well on the program and went as far as the semi finals. Graeme Bell, the well known jazz pianist, offered to be our manager and the ball started rolling. We had bookings everywhere, (we were so different to anyone else) in all the clubs, touring interstate and country tours with the famous Ink Spots from America. We recorded three LPs with W&G records and two with Billingsgate records.

In 1977, our 'Lotte and Johanna' partnership came to an end. We had done enough together and wanted different things in the future. We missed out on celebrating together the big event of being decorated with the 'Golden Cross of Merit' from the Austrian government for our contribution to Austrian culture in Australia.

After working with Johanna, I met with Reimer, who was a German accordion player. We formed a duo as 'Lotte and Reimer' and worked very successfully for 8 years. In that time we also recorded three LPs.

In 1985 I got together with Jay, a musician/producer who had his own studio nearby in Sydney and together we recorded my first solo album 'The Zither, the Guitar and Me'. It sounded and felt good to me and from there on I kept recording and am now working on my seventh album. I have my own home recording studio now where I record my zither music whenever I feel like it. I do all my own zither and guitar playing and I also like to sing.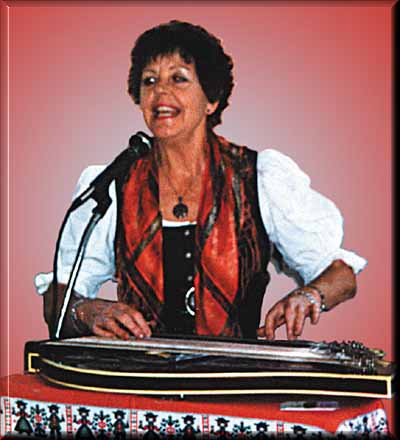 The biggest event for me was the New Year's eve Gala Concert at the Sydney Opera House in 1994 when I played the solo part in 'The Tales from the Vienna Wood' followed by the 'Harry Lime theme'. I did the same performance six times and you could have heard a pin drop during the performance. I sure was glad every time when it was over.

All my CDs are very individual with a good mixture of different musical styles in the Easy Listening genre, making nice background music for all sorts of occasions. I really enjoy bringing this music to you so I will carry on recording as long as possible.

Liebe Gruesse and stay tuned. Lotte.